Good for
all skin types, including sensitive skin & acne prone.  
What it does
improves the appearance of fine-lines, increases blood circulation, stimulates lymphatic drainage, & provides a natural lift + glow. 
How we like to use it
Take deep breaths and glide the Gua Sha outward and upwards.
Our habits
Pair it with our Bliss Face Oil to increase product absorption. 
"Love this tool so much!!! I use it every night during my skincare routine and I can see the difference! Helps me a lot to tighten my skin and with blood circulation! 100% recommended 🤍"
– Andrea Garcia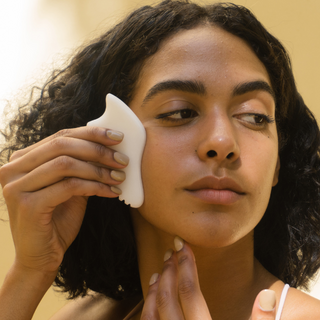 "I love using this at night. When I use this paired with a face oil, it immediately tightens up my skin and leaves my face beautiful sculpted. It's cold to touch so it helps with puffiness under the eyes as well (in the morning)!"
– Jas